TV season 2011-2012
The consumption of media is a big part of my life. And TV is one of my favorite forms of entertainment. This means I get quite excited as the fall tv season nears – it's the biggest time period for launching new shows, and that means the canvas is pretty covered with lots of options. One problem with this is that networks give new shows a little less of a chance than they might have in the past. I'm crossing my fingers that my old favorites and much-anticipated-new shows will make it.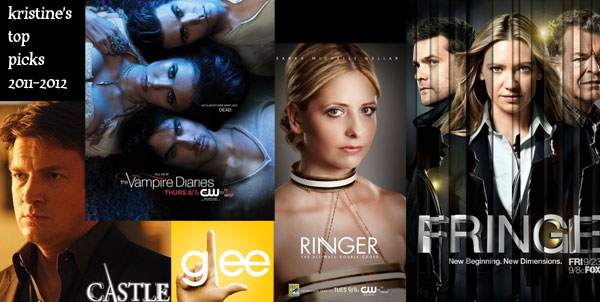 I've enjoyed making these plans for many years now. (2010 – which I also wrote some posts throughout the year about how things were going, 2009, 2008, 2007, 2006, 2005, 2004, 2003, 2002, 2001). Have you written a post about what shows you are going to watch this fall? Comment, I'd love to hear about it!
Note: All times listed are Pacific, I live on the West Coast… but sometimes I'm lucky and I can get the East Coast feed and see something 3 hours earlier than I should have, tee hee!
Monday
8PM
9PM
10PM

How I Met Your Mother, CBS 8PM Monday (September 19, season 7)

We are caught up when the season start, which hasn't happened for a while. The season finale was full of changes but I'm positive about them. I really don't know if we'll meet the mother this season, but I have faith in the creators to keep me laughing. I mentioned on my podcast how this is one of the few shows that I can turn on at any episode and crack up laughing, kinda like how Friends was for me back in the day. I love that!

Kristine's Score: should

Castle, ABC 10pm Monday (September 19, season 4)

One of my most anticipated returning shows. I'm nervous how the changes from the season 3 finale will impact the show: they had such a good thing going between all characters. but I strongly feel Nathan Fillion gets better every year 🙂 and a lot of the characters have had their stories filled in more as the seasons progressed so I'm looking forward to having all of them on my screen again!

Kristine's Score: yes

Terra Nova, FOX 8PM Monday (September 26, New!)

This has been a much anticipated show by tv watchers, since it has been postponed several times. The concept interests me but the promos aren't grabbing my attention.

Kristine's Score: maybe

House, FOX 9PM Monday (October 3, season 8)

Potentially the final season. I'm not enthusiastic about this at all after last seasons end. It will take a lot for me to continue watching, so I'll give it a few episodes.

Kristine's Score: maybe

Hawaii Five-0, CBS 10PM Monday (September 19, season 2)

I waited until quite a while after the end of the first season to catch up with this show. It's not one that E really liked, so I got a marathon to myself. It was great to get to see Daniel Dae Kim again (who even tho he is most often credited from Lost, I still find myself associating him with Angel in my head), and Grace Park from BSG. Masi Oka is full time now and Terry O'Quinn will be "to the rescue" if you can believe the promo video 😉 This show did great in the ratings last season and so I'm excited for them to take that momentum and jump in with season 2.

Kristine's Score: should

Honorable Mention: Heart of Dixie, TheCW 9PM Monday (September 26, New!)

Tuesday
8PM
9PM
10PM

Glee, FOX 8PM Tuesday (September 20, season 3)

Last year, I had friends really suggesting this show to me. So after only having seen one episode of season 1, I gave it a chance (and consequently, watched all of season 1 in the meantime). I'm so pleased I did because I really have enjoyed the characters and the music a lot. This year, I'm looking forward to seeing how things change by bringing on new writers including exec producer Marti Noxon of whedon show fame, as well as the decision to have less "tribute" episodes of a single artist.

Kristine's Score: yes

Ringer, TheCW 9PM Tuesday (September 13, New!)

The new show I am *most* excited about with Sarah Michelle Gellar playing twins and many other members of the cast being people I'm interested in watching too. CBS was going to pick it up and then passed it onto TheCW, which could be a good thing, they may be more likely to stick with it if it gets typical genre ratings. The previews look fabulous.

Kristine's Score: yes

New Girl, FOX 9PM Tuesday (September 20, New!)

Zooey Deschanel has been consistently entertaining to watch on everything I've seen her on, and normally this may not be a show I'd watch but the previews are quite good. I'm looking forward to some quirky fun.

Kristine's Score: probably

Wednesday
8PM
9PM
10PM

Up All Night, NBC 8PM Wednesday (preview September 14 at 10PM September 21, New!)

I've been following Will Arnett from show to show since we watched Arrested Development. We actually enjoyed Running Wilde last season. This new show has some crummy less-than-funny previews out there but also some that make it look like trying out. And I did like Christina Applegate on Samatha Who also.

Kristine's Score: maybe

Honorable Mentions: Revenge, ABC 10PM Wednesday (September 21, New!); Free Agents, NBC 8:30PM Wednesday (September 14, New!)

Thursday
8PM
9PM
10PM

Big Bang Theory, CBS 8PM Thursday (September 22, Season 5)

Good geeky fun. I enjoyed how the show expanded to include the girls in the nerdy boy's lives. Guest spots are funny. It's definitely our kind of show.

Kristine's Score: should

Person of Interest, CBS 9PM Thursday (September 22, New!)

This is a JJ Abrams show (with Head Writer Jonathan Nolan of Dark Night fame) starring Michael Emerson and wow he seems like he's got the smarts of Ben Linus. It has quite a bit of promise and a lot of hype.

Kristine's Score: should

The Vampire Diaries, TheCW 8PM Thursday (September 15, Season 3)

Oh my lovely new show, I can't wait to see you! I watched season 1 and season 2 over the summer. It is *so* my kind of show, and I was only resisting because it was TheCW and I was still annoyed over things they've done (WB + UPN became TheCW). Such very sexy teens with supernaturally motivated story lines and interesting plot twists that blow your mind and make you say OMG out loud repeatedly when an episode ends. Can't imagine how I'll manage to wait between weeks after doing the marathon for the initial eps. There looks to be interesting casting (final scene of season 2!) including Sebastian Roche who I loved on GH and he was diabolical on Fringe.

Kristine's Score: yes

Bones, FOX 9PM Thursday (November 3, Season 7)

Season 6 wasn't my favorite. And Season 7 will be abbreviated to work around Emily Deschanel's real life pregnancy with only 13 episodes. So perhaps they will make those episodes count and really be super television. I still enjoy the characters!

Kristine's Score: probably

Honorable Mention: The Secret Circle, TheCW 9PM Thursday (September 15, New!)

Friday
8PM
9PM
10PM

Chuck, NBC 8PM Friday (October 21, Season 5 – final season)

The final season will be a special 13 episode run. It's kinda nice to know this will be wrapping things up and not just have the run pulled out from under the writers mid-season. There will be some fun guest stars (Mark Hamill, Carrie-Anne Moss reported so far). The way they ended last season really leaves it open to so many changes around the core group.

Kristine's Score: should

Fringe, FOX 9PM Friday (September 23, Season 4)

It's so exciting to know the show has for sure been picked up for a full season as it was seriously on the bubble. And the way the storyline ended with Season 3's finale really make me wonder just how many timelines we'll be visiting (last season, this was reflected in the opening credit colors, and I *loved* that touch). Seth Gabel is joining full time.

Kristine's Score: yes

Grimm, NBC 9PM Friday (October 21, New!)

I'll admit, the primary reason I'm trying this out is that it is filmed in Portland. The primary cast aren't people I'm a huge fan, but it is a David Greenwalt creation and he was a Buffy/Angel writer/producer.

Kristine's Score: maybe

Sunday
8PM
9PM
10PM

Once Upon A Time, ABC 8PM Sunday (October 23, New!)

This fairy-tale themed show catches my eye more than Grimm and I do pike Jennifer Morrison so that doesn't hurt. It's helmed by Kitsis/Horowitz who wrote for Lost and, more recently, Tron: Legacy. It does have an odd Sunday Night time slot, but in the age of TiVo, that doesn't matter so much. I'm interested to see how it looks.

Kristine's Score: probably

Honorable Mention: Pan Am, ABC 10PM Sunday (September 25, New!)

SCORE

Red Hot, Must See TV! (5 shows): yes

There's a big reason why I should watch (5 shows): should

Probably want to watch (3 show): probably

Maybe this will be good (4 shows): maybe

Networks
abc: 2 | cbs: 4 | nbc: 3 | fox: 6 | thecw: 2

Midseason

Alcatraz FOX 9PM Monday (New!)

The promos for this look really excellent. Jorge Garcia from Lost, Parminder Nagra from ER, Sam Neill are all starring, and then it's JJ Abrams produced and Bryan Burk and Elizabeth Sarnoff who have done a lot of Bad Robot-y things.

Leverage TNT (November 27, remainder of Season 4)

White Collar USA (remainder of Season 3)

Warehouse 13 SyFy (remainder of Season 3)

Eureka SyFy (Season 5)
Some of my media-ish friends from Twitter made their own lists: as told by jen (@astoldbyjen) and Steph (@ashbychick).
These are a few of the big sites I use to gather my data, along with TiVo (and it's site) to manage my season passes.