wee mee
I can't help it. Little pixel people are one of my weaknesses. Like when I made a new StorTrooper to match my outfit every day for a few months. :giggle:
So following in M's footsteps again, here's my little wee-mee: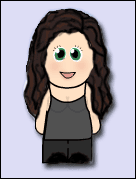 I had to make my own hair because they didn't have anything remotely like mine

And I added a blush to my cheeks because I have naturally rosy cheeks. This is one of my favorite jammie outfits - gray tank and pants, and black fuzzy slippers! Isn't she adorable?