need some mary kay?
Like I've said in the past, my sister is a Mary Kay Sales Director. This means that she has to make a certain level of production each month from her unit, and this month, I'm helping her out by making sure I'm still on her books. Pretty much, I buy stuff for my own personal enjoyment, but I do have a few products on my shelves even with that because I figured some friends might enjoy these things too... I just never really had much time after my initial push to send out trials to do much more promotion.
You can see some of the stuff I really like on my personal page at Full of Beauty, and all of the available products are on my official page, MaryKay.com/kristineb.
So I'm gonna be ordering a few things, and if anybody is interested in anything, I can order what you need too - if you comment here or send a message from the Full of Beauty page and mention this post, I could even throw in a free Eye Shadow or Nail Polish for anybody who puts in an over $20 order.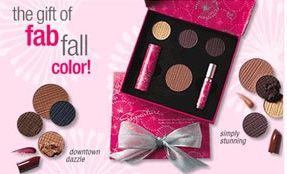 One of the really cool new things I'm gonna order myself is the Color Collection set - I love the box, and the pretty covers for the lipstick!
I probably need to put this order in by the end of this week, so do let me know before Friday if you are interested. It'll take a few weeks to get things here and back out in the mail, but some products I really might have on my shelf and that could be faster.