I enjoy finding new bazaars and craft shows because it's all about finding those perfect local gifts for people. I saw The Columbian, our local paper, mentioning the Check 'em Off Green Holiday Event at the Marshal Center, and so we stopped in for a look. The event page is on
reusing.blogspot.com
. My Christmas list really wasn't ready enough to buy things, but I really enjoyed some of the ideas I got.
The featured creators in The Columbian's
article
was
Rock Candy Art
, and they had some neato bags and purses made out of reclaimed vinyl or chip bags or gum wrappers - really cool idea.
I felt some super soft t-shirts from
WearYourVeggies
, I'd love to wrap some babies up in their organic cotton shirts! From Goldendale, WA.
I really like the idea of
Bug Baby designs
- they had reusable sandwich and snack bags that closed with velcro. They were adorable!
The most interesting items to me were from
GiftSAC
, with their burlap sac bags and purses. The owner, Chris, chatted with me for a few minutes and we learned we'd both be jurying for another market together in a few days, so that was really a nice connection. She mentioned how one of her bags was the perfect size for a file folder, and that's exactly the size I need right now for carrying around my lists and comp book. I think I'm going to get myself one!
I made an Etsy Treasury of the some of the vendors I saw and some other local Vancouver shops:
It's a Green Holiday in Vancouver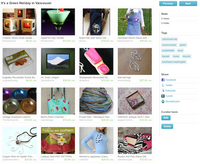 I'm excited for more craft fairs and bazaars through the holiday season :)