girl next door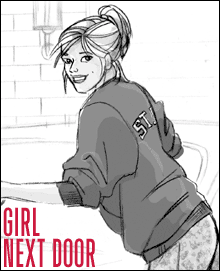 Perodically, I come across a little quiz I just *have* to take

It's made to go along with a book about cooking for a date but the images are fun and the questions made me smile.
I am the Girl Next Door
The Girl Next Door is from a small town, a large family, or both. She still has a healthy dose of what people 'round these parts call "family values." ... The defining characteristics of the Girl Next Door are simplicity and tradition.
Take the
"What Kind of Girl Are You?" quiz at CookingToHookup.com