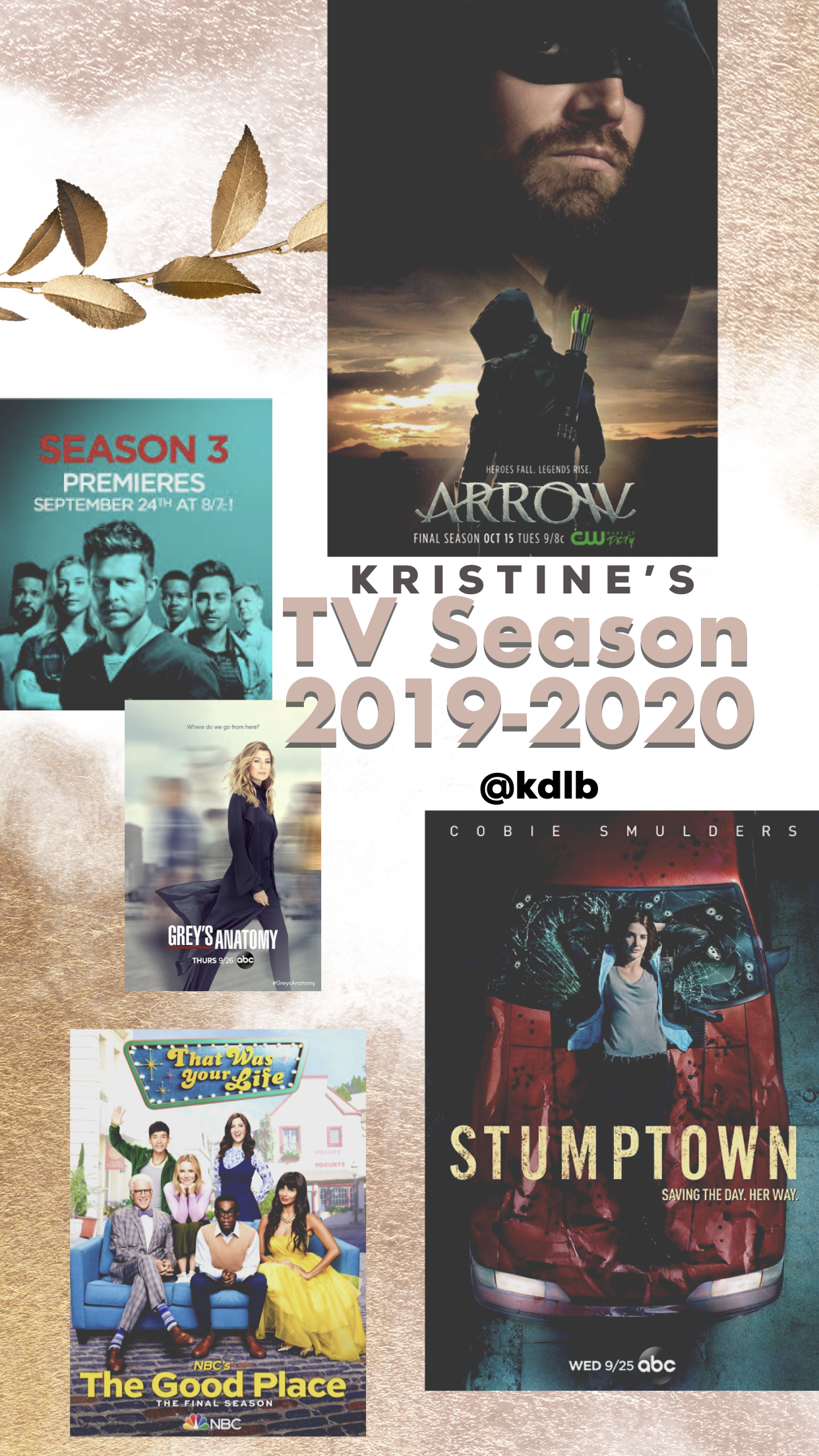 The fall TV season is here, or just about! This year is interesting because we have several streaming services launching in November (Disney+ and Apple TV+ - by way of a new iPhone purchase - are the two I'll have an initial subscription to, as well as my current Netflix, Hulu, and Amazon Prime - which is only a side effect of wanting better shipping!)
I'll be loosing a great number of shows in their final season this year, and that means I'm kinda looking for some new things to watch, so I have a few new things here. I put a note on the new ones at least what actor is making me want to watch.
I've also noted where episodes will be streaming, where I can find the info. This is important as I don't have a TiVo any more. Hulu fills most of those holes, but CBS is the one clunker I can't watch without a subscription to CBS All Access. So there were a few shows I had on my "new" list that I just had to delete because I don't have enough of a need for All Access to make it worth it. The CW episodes aren't on Hulu, but because we have the lowest tier of cable for the 10 basic channels, I have a cable log in that I can use to sign into their app on my Apple TV or iPad app for their channel. (this cable log in also lets me sign into the CNN app for debates and important news.)
Sunday
Batwoman
The CW 10/6 Su 8pm (New!), streams on CW app
-- newest addition to the Arrowverse, of which I still watch Arrow for it's final season and Legends. I won't go back to Flash, but I might watch some more Supergirl leading up to the crossover.
Monday
Prodigal Son
FOX 9/23 M 10pm (New!), streams on hulu
-- Belamy Young, Michael Sheen, creator Greg Berlanti
Tuesday
The Resident
FOX 9/24 T 8pm s3
Arrow
The CW 10/15 T 9pm s8, final season, streams on CW app
Wednesday
Almost Family
FOX 10/2 W 9pm (New!), streams on hulu
-- Timothy Hutton
Stumptown
ABC 9/25 W 10pm (New!), streams on hulu
-- set in Portland, although not filming here. Cobie Smulders
Thursday
Grey's Anatomy
ABC 9/26 Th 8pm s16
Perfect Harmony
NBC 9/26 Th 8:30pm (New!), streams on hulu
-- Bradley Whitford
The Good Place
NBC 9/26 Th 9pm s4, final season
-- Began watching this over the summer!
Sunnyside
NBC 9/26 9:30pm (New!), streams on hulu
-- Kal Penn, from Fremulon who did The Good Place
Midseason
The 100
The CW Midseason s7, final season
DC's Legends of Tomorrow
The CW 1/14 T 9pm s5
Marvel's Agents of SHIELD
ABC Midseason s7, final season
Blindspot
NBC Midseason s5, final season
Manifest
NBC Midseason s2
FBI: Most Wanted
CBS Midseason (New!)
-- Julian McMahon
Council of Dads
NBC Midseason (New!)
-- J. August Richards, Sarah Wayne Callies
Further in the future
Jack Ryan
Amazon Prime 11/1
The Mandalorian
Disney+ 11/12
Dollface
Hulu 11/15
-- Kat Dennings
Little Fires Everywhere
Hulu 2020
-- Kerry Washington, Joshua Jackson
Futureman Hulu
2020 s3, final season
Umbrella Academy
Netflix s2 2020
The Falcon and Winter Soldier
Disney+, first year