Kristine's Trakt year, 2022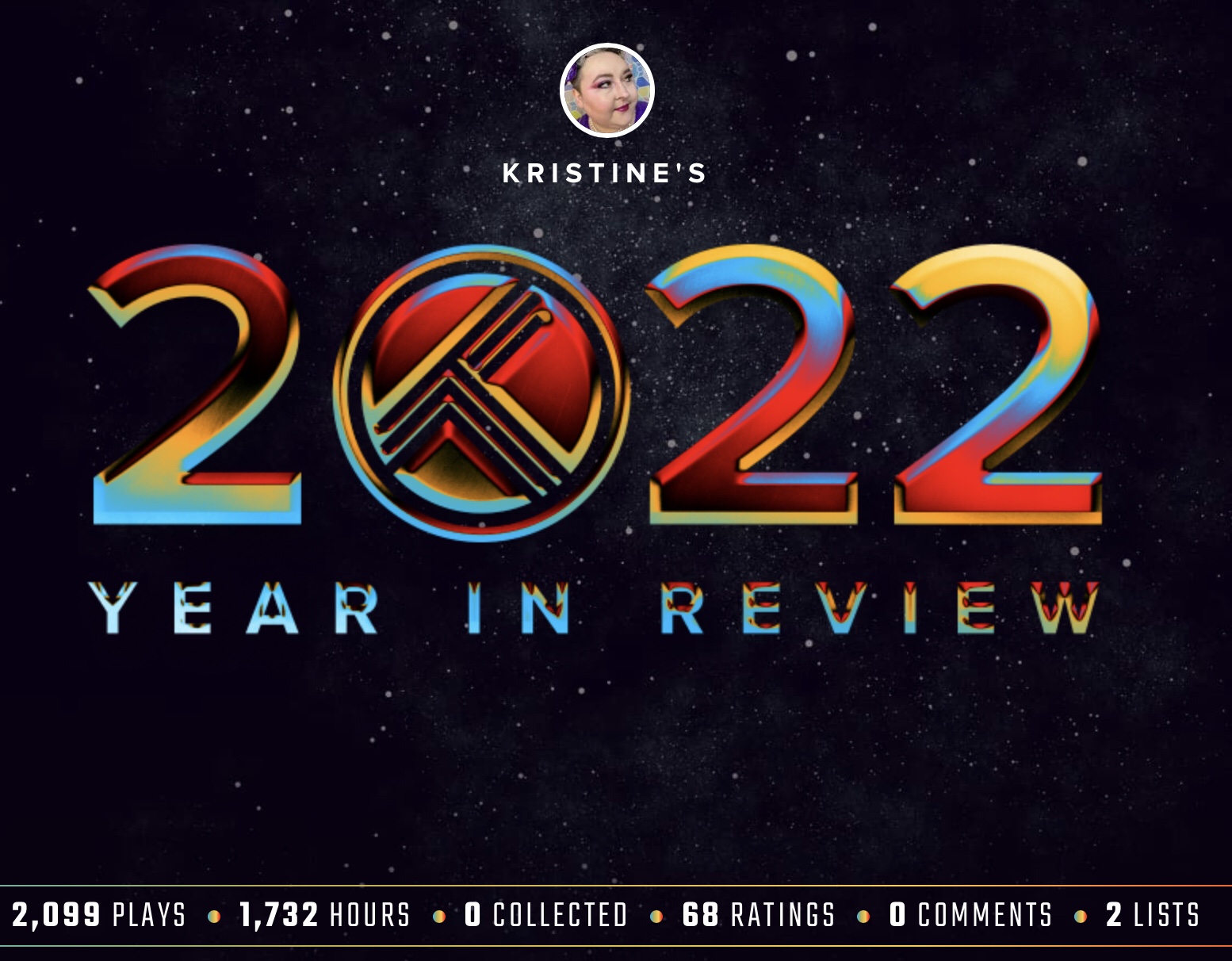 For 2021, I did a nice write up of the things I watched. I enjoyed that and decided to play with that again for 2022 too. I use the site trakt.tv to mark down all of my watches, tv or movie. I've encouraged a few friends that this site rocks and so now I am also watching some of their watchlists too, and that makes group tv even more fun. Also, I love the Watcht app for my logging to Trakt because it has some easier options for seeing which streaming service the shows are on, and let's me most easily track multiple watches of the same episode because I'm a creature of comfort and need to rewatch things often.
So where did my watching go in 2022? For one, I watched more movies than I have previously tracked years. I marked 116 movies as watched (compared to 46 the previous), and I think that some of what contributed to this was group movie nights. With the pandemic came improvements to watch parties on all of the major streaming services, and even though there are bugs in some of the ways they work, they do allow me and friends across the country to enjoy watching and chatting.
Movies
My most watched movie studio, unsurprisingly, is Marvel, followed by Disney. I'm rewatching the Marvel Cinematic Universe, but I've also watched a variety of Disney and Princess movies, many as rewatches, but a few new. Tangentially related to the MCU was the X-Men universe too.
There were some disaster movie rewatched, and some interesting adventure movies – the new Jungle Cruise was awfully fun. And I watched all of the monster universe when I had HBO Max again – Godzilla and the like. Another watch party of interest was all of the Lord of the Rings and Hobbit movies, followed by the new Lord of the Rings: Rings of Power series on Amazon Prime. Hocus Pocus and the new follow up was another exciting pairing.
Holiday movies and shows also counted towards some of my late in the year watching. A few notable things included:
The Santa Clause movies and the new Disney+ follow up series.
The Grinch, the Benedict Cumberbatch animated one. This was a lovely follow up to the original, with a lot of positive holiday cheer built into it.
Some romantic movies that featured cooking challenges like Pumpkin Pie War and Christmas Calendar. One of my new favorites also included a gingerbread challenge, Under the Christmas Tree, Lifetime's first same sex holiday movie of last year.
I continued my holiday joy by watching actual cooking challenges on Food Network – Christmas Cookie Challenge, Holiday Baking Championship, Holiday Baking Championship: Gingerbread Showdown, and Holiday Wars.
All in all, 16 movies or longer form shows were watched, plus the series items mentioned.
Television
Then we move to the TV side. I tend to do a mix of old shows and new shows, but this year I had less network shows that I was paying attention to, so that changed some of my behaviors.
I did watch some TV shows that had high episode counts, both as rewatches and new to me shows.
As I look through my list, I'm kinda astonished at how many things I did watch last year. But being more disabled def has me spending more time in bed.
Rewatched ER (332 episodes) which sent me on some other rabbit holes as I reminisced on the show that I started watching my freshman year of college on Thursday nights in friends rooms.
Rewatched The Good Wife (156 eps) in prep for watching The Good Fight (just finished its 6th and final season). I have a half season left to watch there to see if I like how Fight ended better than the last 30 seconds of Wife.
Rewatched The Last Ship yet again. There is just something about it that makes it a favorite, the combo of cast and storylines draw me back.
Watched 24 (205 eps) for the first time. There were a number of guest stars I wanted to see, and it was a nice zoom-quickly-through kind of show for me. Then I had to rewatch Designated Survivor again as well.
Watched Madam Secretary (120 eps) and it was one of my fav things about last year. Great cast, great storylines, I fell in love with the family too.
Watched Homeland (96 eps) and even though Claire Danes' character isn't as relatable for me (she thrives in chaos!), it was very intriguing and took some of the content I knew from other American dramas based overseas and made me a little more aware.
Watched The Handmaid's Tale. There is one more season coming. While it was hard to watch, it is a show that many people talk about and I wanted to see what the context that everyone had when comparing it to some of the more recent government changes. The cast is truly amazing.
Finally watched SEAL Team, which I'd only given one episode a try initially. After starting Fire Country with Max Theriot, I remembered that I wanted to try this, and completely paused my network tv watching to truly appreciate this David Boreanaz led series. And fell in love with the rest of the team along the way. It's just been renewed for another season on Paramount.
Rewatched Revolution, another recurring favorite. I think seeing David Lyons on the last season of ER made me need to do this again, along with seeing Tracy Spiradakos regularly on Chicago PD.
Rewatched and finished the final season of Westworld. Seasons 1 and 2 were my favs, but there was still enough that interested me about the last two seasons that I'm glad I watched it. I'll gladly watch more that these creators (who also worked on Person of Interest that I love) do in the future.
Rewatched and finished The Event (2 seasons). I was always curious how it ended because it had an interesting concept but E and I started calling it the CrappyEvent when we stopped watching because they kinda lost the thread. Glad to have seen the end even though it still didn't conclude the full storylines.
Found Drive (tv show, not movie) available on streaming and got to watch its 6 episodes again for the first time since it was on TV. Nathan Fillion led this ensemble cast with so many people I knew, and I was really glad to find it, despite its untimely cancelation (Poor Tim Minear who also did Firefly).
Rewatched Manifest in prep for final season. Same for Jack Ryan.
Watch parties of things I'd previously seen with various people for Timeless, WandaVision, Agent Carter, started Agents of SHIELD and Blindspot. A little bit of Hawkeye near the holidays too.
Current shows during 2022: Chicago Fire, PD, and Med (stopped watching Med at the end of last season). The Resident. Grey's Anatomy. La Brea, which I rewatched before fall tv started again.
A few shorter run shows: Dollface, and rewatched s1 before s2 premiered – but it's cancelled now. The Hot Zone, The Looming Tower, Suspicion. 1883 (Yellowstone first prequel). Marvel: Moon Knight, Ms. Marvel and She-Hulk. Our Flag Means Death on HBO Max.
It's been a lot of fun to look back at last year and think about what 2023 will bring for me in terms of entertainment. I'm also listening to some audio books and that is bringing me joy! And that's the story…