Happy day to Cis!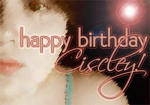 click for a larger version
Its a very special day for a very special girl! Happy birthday, Ciscley!!! I'm so glad that we are getting to know the fun connections between us

(Now we are the same age!! ;) ) Now make sure you go take some pictures of yourself on your birthday! ;)
(I had to take one of my favorite pictures she's taken lately and paint it up to look cool!!! I love playing!)
Go wish her a happy birthday and look at the ADORABLE pictures of her previous birthdays!!!