Superpowers Shawl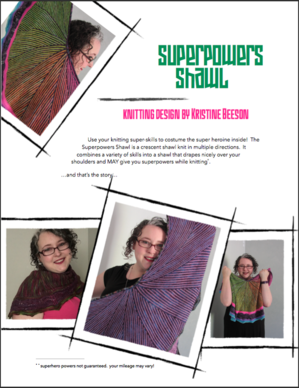 The Superpowers Shawl is a crescent shaped shawl knit in multiple directions that drapes nicely over your shoulders. It uses a wide variety of skills, just like the prowess of a super heroine!
Exciting features of this pattern:
Pick some favorite skeins of yarn that could combine together to create a color scheme that shows your true self.
Start with striped short row wedges, move onto a textured i-cord, and then knit on a border with lace, cables, and optional beads.
This pattern has written instructions and uses stitch-maps for the charts.